"You Would Shoot His Ass… !"
March 19th, 2015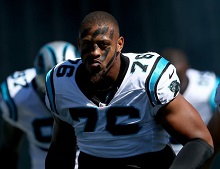 Yes, Bucs fans were angry their team passed on sackmeister defensive end Greg Hardy yesterday. The vast majority  wanted Hardy, though there were some unnerved by Hardy's legal hassles.
Hardy was signed by Dallas and long-time Dallas sports voice, WFAA-TV sports anchor Dale Hansen, was outraged
Hansen undressed Jerry Jones and Jason Garrett for the signing, and torched the Cowboys as a whole. Among the grenades Hansen tossed at the Cowboys and their happy fans — if Hardy knocked on your front door to pick up your daughter for a date, "You would shoot his ass through the glass."
Video courtesy of WFAA-TV.