Hardy Contract Would Have Been A Waste
March 19th, 2015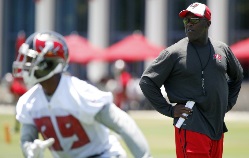 Now that the rage and hopelessness over the loss of Greg Hardy to the Cowboys has subsided a bit, it's time for a dose of reality.
The contract Hardy signed with Dallas would have been worthless to Tampa Bay.
Per BSPN, Hardy inked a one-year deal worth $11.3 million if he plays a full season, plus a shot at about $1.8 million in incentives. What's key is the one-year deal and a clause that says the Cowboys can't slap a franchise or transitional player tag on him.
That means Hardy is a free man next March.
What good would that have done for the Bucs? Tampa Bay isn't making a Super Bowl this season. (Sorry, Joe's just trying to keep it real.) So Joe would have had no interest in having Hardy in Tampa if the Bucs weren't pretty sure he'd be back in 2016.
Jiminy Christmas! The NFL hasn't even ruled on when Hardy can return to a team and what his suspension would be.
Joe would rather see the Bucs bag Hardy next March, if they need him.