Jameis Watch: Homework Report
March 19th, 2015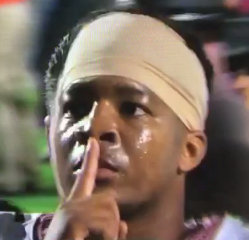 Crab-legs-stealing, BB-gun-shooting, obscenity-hollering, Heisman-Trophy-winning, former national champion Jameis Winston, the pride of Florida State University, continues to look like a much better quarterback prospect than Mike Glennon.
It's Joe's daily nugget on the Jameis Watch, celebrating the best quarterback ever to wear No. 5 in the state of Florida.
Refill your coffee mug and check out this video from NFL Network. It's a roundtable discussion and revelation session about Jameis Winston from Curtis Conway, Brian Baldinger, and draft guru and former scout Daniel Jeremiah.
It's well worth the five minutes.
Jeremiah dives in deep on what he's learned about Winston while touring the country. Jeremiah shares takes from coaches, ex-players and league executives, including his discussion with Stanford head coach David Shaw, who recruited Winston — and his 4.0 GPA in high school — to Stanford, where Winston was accepted.
Baldinger explained how he's talked to ex-teammates of Winston who said he was a leader as a redshirt freshman at Florida State, while E.J. Manuel was the starting quarterback.
There's more, as well. The overall discussion was about how attitudes about Winston are shifting across the NFL — in a pro-Winston direction.
Jeremiah says teams have taken a we've-done-our-homework stance and already have approved Winston. Jeremiah said no team has told him Winston is off their draft board.