Top 30 Buccaneers Mysteries Of 2014 — No. 13
March 2nd, 2015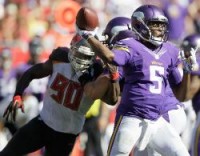 In many ways, Tampa Bay's 2014 season was more bizarre than the MRSA-infected, quarterback-gone-mental, Fire-Schiano-billboards campaign of 2013.
There were plenty of real Bucs mysteries last year, and Joe's revisiting the most interesting of the bunch.
No. 13 — Not Trading Up
How exactly did the Bucs assess their quarterback situation last year at this time?
Every new regime must have a plan to win a Super Bowl. So did Lovie Smith, Jason Licht and Jeff Tedford really believe they could return glory to Tampa with ancient journeyman Josh McCown and/or Mike Glennon?
It's hard to believe smart football men could tell each other that with a straight face.
The Bucs were sitting with 38th overall pick, their second-round choice in the 2014 NFL Draft, while the Vikings sat at No. 40 and traded that and a flimsy fourth-round pick to Seattle for the No. 32 pick. Minnesota used it to bag quarterback Teddy Bridgewater, the eventual Rookie of the Year. Tampa Bay also sat on its hands as the Raiders drafted QB Derek Carr at No. 36, another rookie standout.
Why didn't the Bucs trade up?
One could speculate it's possible Tampa Bay somehow was preparing to be the worst team in the league and win the Chase for Jameis, but that's ludicrous.
Not trading up last year remains mind-boggling. What was that QB plan?
No. 14 — The Glennon Clarification
No. 15 — No Help Wanted
No. 16 — Sticky Spot
No. 17 — Virgin center
No. 18 — Investing in seven starts
No. 19 — Returner decisions
No. 20 — VJax's wrist
No. 21 — Anti-Jell
No. 22 — Seferian-Jenkins boasting about penalized pose
No. 23 — Never moving Michael Johnson
No. 24 — "I didn't want to put more points on the board"
No. 25 — Glennon success without an offensive coordinator
No. 26 — Putrid punting
No. 27 — Defending three-step drops
No. 28 — Eight consecutive red zone runs versus Rams
No. 29 — Leaky Sean Glennon
No. 30 – Jorvorskie Lane