Glory Days Bucs Tackle Shoots Down Suh
March 2nd, 2015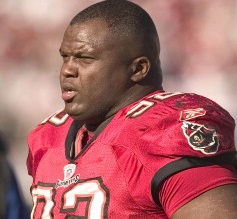 Joe is flabbergasted by the drum pounding for Ndamukong Suh by some Bucs fans, and it's mind-numbing that some local media types think Suh in Tampa might actually happen.
It's about as likely as Team Glazer hosting a clothing optional Town Hall meeting on Clearwater Beach and insisting on questions about Manchester United.
But hey, don't trust Joe. Take the word of a guy knows defensive tackle play in the Lovie Smith's old school Tampa-2 defense. That would be Booger McFarland, who wears a Super Bowl ring after playing defensive tackle alongside Warren Sapp.
McFarland, who keeps busy on the SEC Network and as a host on SiriusXM NFL Radio, took to Twitter today to deflate the hopes of the Suh crowd.
Suh doesn't work in Tampa 2 Sapps wouldn't work either can't have 2 guys that wanna hit the b gap #Bucs

— Booger (@SECbooger) March 2, 2015
Joe's glad Booger commented on the Xs and Os side of the Suh argument. It's a nice complement to the fact that signing Suh, who likely is looking at $20 million a season, makes zero sense. You can't tie up that much cash at defensive tackle.
You want the Bucs to address the defensive line with Team Glazer's wallet? The dump Michael Johnson and get some edge-rush talent in the house.