Top 30 Buccaneers Mysteries Of 2014 — No. 10
March 9th, 2015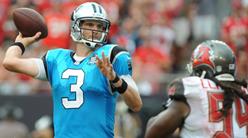 In many ways, Tampa Bay's 2014 season was more bizarre than the MRSA-infected, quarterback-gone-mental, Fire-Schiano-billboards campaign of 2013.
There were plenty of real Bucs mysteries last year, and Joe's revisiting the most interesting of the bunch.
No. 10 — The Deadly Combination
Opponents get paid, too. Joe gets that guys will sometimes have great days against the Tampa Bay defense.
However, Joe's tolerance changes when it's the same two guys lighting the Bucs up twice in a season. That shouldn't happen, especially when the connection is Panthers quarterback Derek Anderson and tight end Greg Olsen.
Olsen caught 18 of 24 balls thrown his way in two games against the Bucs last season. Everybody and their brother, including defensive masterminds Lovie Smith and Leslie Frazier, knew what was coming when the Bucs headed to Carolina in Week 14. Still, Olsen hauled in 10 catches for 110 yards from the backup quarterback, aka the fourth-best QB in the NFC South.
How did the Bucs let Olsen beat them?
Joe's not sure, but almost former Bucs linebacker Mason Foster is shouldering a chunk of the blame.
No. 11 — The McCown Cry
No. 12 — Counting To 12
No. 13 — Not Trading Up
No. 14 — The Glennon Clarification
No. 15 — No Help Wanted
No. 16 — Sticky Spot
No. 17 — Virgin Center
No. 18 — Investing In Seven Starts
No. 19 — Returner decisions
No. 20 — VJax's Wrist
No. 21 — Anti-Jell
No. 22 — Seferian-Jenkins Boasting About Penalized Pose
No. 23 — Never Moving Michael Johnson
No. 24 — "I didn't want to put more points on the board"
No. 25 — Glennon success without an offensive coordinator
No. 26 — Putrid Punting
No. 27 — Defending Three-step Drops
No. 28 — Eight Consecutive Red Zone Runs Versus Rams
No. 29 — Leaky Sean Glennon
No. 30 – Jorvorskie Lane