"This Is My Sanctuary"
March 31st, 2015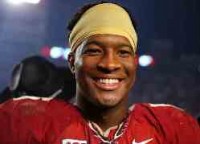 James Winston spoke for five minutes — on the nose and was shut down at exactly five minutes by Florida State media relations — to the assembled college and NFL writers who swarmed Tallahassee for the Florida State pro day this afternoon.
In reality, few showed up to just watch nondescript players. It was all about Jameis, all afternoon.
What's weird is folks who watched on TV and Twittered largely claimed Winston had a horrible afternoon. For those in the indoor football practice facility, the reaction was just the opposite.
Jason Licht simply could not wipe a wide smile off his face. He was the proverbial cat who just swallowed the canary, or the panting, happy lab who just stole the pork chop off your plate and inhaled it whole.
Bucs offensive coordinator Dirk Kotter was smiling like he won a hand of poker. Lovie Smith was caught beaming. Oh, and Steelers Mike Tomlin was locked in watching Winston's every throw as if he was in need of a new quarterback. Or like Joe watching a video of Rachel Watson.
Winston threw, what most believe were six incompletions out of 102 attempts. Or three crazy games worth of throws, mostly under center. So much for that weak shoulder.
"I just wanted to compete," Winston told Joe and other media. "As a quarterback, my job is to throw. I had a lot of receivers so I wanted to throw. Coming into this day, I just wanted to compete."
One reason Winston felt he threw so well ("I know how I did.") was he was on his home turf. His practice facility. His home away from home. His church.
"This is my sanctuary," Winston said. "I've been saying that for the longest time. I love this place. Every football field is my sanctuary. the locker room is my sanctuary. Football is my sanctuary. I'm not just talking about the field. i am walking about everything. I mean everything dealing with my teammates and my brothers — being a great teammates. This is my fraternity.""
"Every football field is my sanctuary. the locker room is my sanctuary. Football is my sanctuary. I'm not just talking about the field. i am walking about everything. I mean everything dealing with my teammates and my brothers — being a great teammate. This is my fraternity."