Jason Licht On Jameis Winston: "Very Good. Excellent. Had A Great Day. … This Was Outstanding."
March 31st, 2015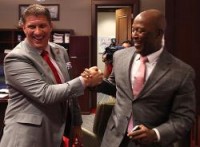 Joe was on scene at Jameis Winston's pro day this afternoon at Florida State University, and has reaction from Buccaneers general manager Jason Licht.
Licht's quick first impressions after Winston's 102-ball throwing session: "Very good. Excellent. Had a great day. … This was outstanding," Licht said. "He threw a full nine innings."
Questions about Winston's fitness might not be valid any longer, per Licht. Winston's visible strength and endurance "puts that fire out," Licht said. "He showed his arm strength to throw No. 1 to throw 100 and whatever it was."
Overall, Licht said he was most impressed with Winston's "leadership and arm strength and conditioning."
What more can Joe say? The Bucs' brass, from new offensive coordinator Dirk Koetter on up, was seen beaming through the afternoon.