"They Are Not Big Fans Of His Personality"
March 19th, 2015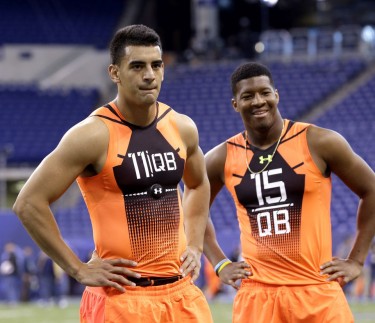 A prominent voice on the Buccaneers beat says Tampa Bay has a personality issue with one of this year's elite quarterback prospects.
University of Oregon quarterback Marcus Mariota isn't the kind of leader team officials covet, Roy Cummings told Tom Veit on WHBO-AM 1040 yesterday.
"The other thing that [the Bucs] are not a big fan of, and you're going to hear more about this, they are not big fans of his personality," Cummings said of Mariota. "And you've got one very engaging guy with loads of charisma. He's likeable when you get around him, in Jameis Winston. And then you've got another guy who's very introverted, very quiet. He doesn't really command your attention when you're around him, a very quiet soft-spoken guy.

"The Bucs are looking at it and saying, you know, 'I got a guy here that kind of grabs you by the throat when he's in the huddle and says, 'We're going guys. We've got 82 yards to go. We've got a minute and 12 seconds to do it. We're going to get there.'

"And then you've got another guy who, I don't know what he says in the huddle, but it doesn't come across that way, at least according to scouts it doesn't.

"So I think the Bucs are in the camp that they're a little bit concerned about that guy, not the face of the franchise, the leader of the football team. I think they want the leader who has more natural leadership abilities."
Joe's study of Mariota reveals a guy who is not trying to sell himself and a guy who is content to let his film and references do the talking.
That's just fine, and that's how it is for most draft picks, who don't get the attention of a premier quarterback prospect.
But Mariota is a quarterback, in a league that's driven on and off the field by QBs.
How Mariota approaches leadership and how that style might translate in the NFL is important. Apparently, the Bucs aren't grading him well in that department.