Bucs Fans Angered GMC
March 19th, 2015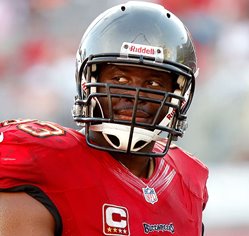 Yes, many Bucs fans were angered  when the Bucs pulled out of the Greg Hardy sweepstakes yesterday, watching the proven double-digit sackmeister run off to Dallas without even slapping skin in Tampa.
Joe understands why the Bucs, eventually, passed. Most fans didn't.
The vast majority of Bucs fans, per two polls, wanted Tampa Bay to grab Hardy, but there were still a handful that wanted nothing to do with him. Apparently, it is this handful that shamefully went after Gerald McCoy of all people.
Since playing in a Pro Bowl a couple of years ago, GMC, the unquestioned leader of the Bucs, struck up a friendship with Hardy. While Hardy was still swimming free in the free agency waters, GMC took to his Twitter pulpit to try to lure Hardy to Tampa.
This angered some who wanted nothing to do with Hardy and his legal problems. They and lashed out at GMC who, in turn, delivered his two cents at the Hardy critics.
Any fan that can disrespect me for trying to improve our team. Going out my comfort zone to make something happen I don't need you.

— Gerald McCoy (@Geraldini93) March 18, 2015
You guys kill me sometime. This is why players disconnect from fans is bc of the non sense we have to deal wit. Oh well real fans. Love you! — Gerald McCoy (@Geraldini93) March 18, 2015
Exactly. God forbid GMC takes an active role in the Bucs, and in his future and in his fortunes, and try to lure stud players to a 2-14 squad. That's a helluva mountain to climb, and Bucs fans ought to be happy as hell GMC is doing his part to try to make the team better.
The nerve of folks to ridicule GMC for going out of his way to make the Bucs a winner for a change. Joe guesses some fans really do enjoy watching opposing quarterbacks have so much time in the pocket, they mock the pass rush of the Bucs with Facebook posts before throwing passes.
Props to GMC for acting like the team leader he is.