"System, System, System"
March 11th, 2015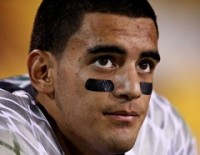 Cerebral ex-quarterback Boomer Esiason issued a firm stance on University of Oregon QB Marcus Mariota.
Esiason isn't sold on Mariota and says his NFL obstacles will be immense.
Esiason gives a passionate one-minute take in this CBS Sports video below.
He says Mariota is a "system, system, system" guy and outlined what he'll have to overcome. He also says Mariota will need a lot of Tom Brady in him to succeed.