Adrian Clayborn Heads To Atlanta
March 11th, 2015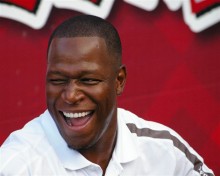 Raheem Morris, the guy who led the Bucs to a 10-win, 2010 season on a shoestring payroll while 10 rookies made starts, is now the assistant head coach of the Atlanta Falcons.
And Raheem, it seems, has put in a good word for his Boy-Dog.
Yes, the formerly wacky Raheem nicknamed defensive end Adrian Clayborn, the Bucs' 2011 first round pick, "Boy-Dog," because Raheem believed Clayborn played with such intensity and anger that he was half man half canine.
Clayborn, per BSPN, is on a free agent visit with the Falcons today.
Lovie Smith raved about Clayborn's work ethic and intensity last summer, but Clayborn blew out his bicep on opening day and the Bucs put him on injured reserve and let him walk yesterday in free agency.
Clayborn was cleared to resume football activities in December, but the Bucs waved goodbye.
Frankly, the Clayborn situation has left Joe slightly puzzled. There is a lot of respect for Clayborn in the Buccaneers locker room, and he's not yet 27 years old. The Bucs likely could have kept Clayborn on the cheap to compete.
Joe wishes Clayborn well, and Joe suspects he'll have a job quickly.