Reviving 2012 Glory?
March 11th, 2015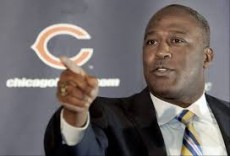 Before Lovie Smith was fired in Chicago and hung out in his basement with Jeff Tedford and others, Lovie finished coaching the Bears to a 10-6 record and the NFL's fifth-ranked defense in 2012.
Two guys anchoring the back of that defense could be reunited in Tampa.
Major Wright started every Bears game at strong safety that year. Earlier this month, the Bucs re-signed Wright, the one Chicago player Lovie quickly brought with him to Tampa and actually stuck on the roster.
Chris Conte started all but one game at free safety alongside Wright in 2012. Today, Conte is in town being courted by Lovie and Jason Licht.
Both are just 26 years old, though have had their share of injuries.
Joe can't imagine Conte would be expensive. And Joe suspects Lovie yearns for more players who know his system, which has a steep learning curve by NFL standards. (See Leonard Johnson & Mike Jenkins getting re-signed).
The Bucs have emerging Bradley McDougald at safety now, along with Schiano-era holdover Keith Tandy, who is a special teams standout. There's also overpaid Dashon "Hawk" Goldson still in the nest. Joe's having trouble believing Hawk will fly another year in Tampa.