Sterling Moore Is Eyeing The Outside
March 21st, 2015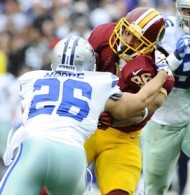 The newest Buccaneer, Sterling Moore, has big goals.
His interest goes beyond the nickel cornerback role he played for the Cowboys last year.
Moore chatted with Bucs beat reporter Jenna Laine of SportsTalkFlorida.com and explained that he doesn't want to be pigeonholed as a nickel.
"Even though I was the third corner [in Dallas], I played outside quite a bit, as well as inside. So I have that versatility," Moore said.
He acknowledged how Tampa Bay coaches nickel cornerbacks independently of outside cornerbacks in practice, but Moore said that will only help him master that job while he fights for something bigger.
"But don't get me wrong I'm not coming there to be just a nickel," Moore said. "I fully anticipate competing for, you know, one of the top two corner spots. But definitely the nickel at first."
Moore, 25, is not lacking confidence. Joe likes that. Moore said he performed "extremely well inside and on the outside" last season, when he made seven starts for Dallas.
If nothing else, the Bucs have brought in young veteran competition. That's always a good thing. Moore is entering his fifth season, undrafted out of Southern Methodist in 2011.