Jameis Watch: "It's Cut And Dry"
March 21st, 2015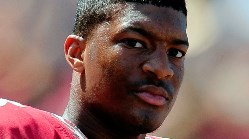 Crab-legs-stealing, BB-gun-shooting, obscenity-hollering, Heisman-Trophy-winning, former national champion Jameis Winston, the pride of Florida State University, continues to look like a much better quarterback prospect than Mike Glennon.
It's Joe's daily nugget on the Jameis Watch, celebrating the best quarterback ever to wear No. 5 in the state of Florida.
More so next week, Joe will break down to a greater detail a fantastic podcast NFL Network draft analyst Daniel Jeremiah did on Jameis Winston. Jeremiah interviewed college coaches who recruited Winston and failed, like Stanford coach David Shaw, Winston's former teammates at Florida State, and more, to try to find out what kind of a person Winston is.
In a video on NFL.com pimping the podcast, Jeremiah sat in on a round table with Brian Baldinger, Curtis Conway and Andrew Siciliano and said he knows of no team that is against drafting Winston.
"Teams have spent a lot of money to dig into [Winston's background]," Jeremiah said. "They've done their homework, and it's cut and dry — either he's on the board or off it. I've yet to have anybody tell me that he's off their board."
So much for the narrative that Winston is some modern day Lucifer walking the face of the earth, a ma  who will turn whatever city he plays for into a third world country where women and children cannot walk the streets with any degree of safety.