Jameis Watch: Cornering Goodell
March 11th, 2015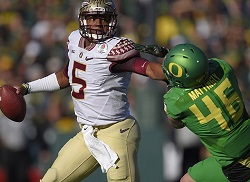 Crab-legs-stealing, BB-gun-shooting, obscenity-hollering, Heisman-Trophy-winning, former national champion Jameis Winston, the pride of Florida State University, continues to look like a much better quarterback prospect than Mike Glennon.
It's Joe's daily nugget on the Jameis Watch, celebrating the best quarterback ever to wear No. 5 in the state of Florida.
Jameis Winston says his game is all about aggression, and he took that approach with NFL Commissioner Roger Goodell.
Pickpocket-thwarting, Bucs-uniform-frowning, Allie-LaForce-smitten, Big-Ten-Network-hating, pedestrian-bumping, olive oil-lapping, popcorn-munching, coffee-slurping, fried-chicken-eating, oatmeal-loving, circle-jerking, beer-chugging, cricket-watching, scone-loathing, college football-naïve, baseball-box-score-reading, NPR-listening, filthy-hotel-staying, fight-instigating, barista-training Peter King, of Sports Illustrated and NBC Sports fame, learned that Winston spent about five hours at the league headquarters last week after Goodell granted him a meeting.
King spelled it out in his column today.
The backstory: One of Winston's agents, Greg Genske, told me Tuesday that once Winston declared for the draft he wanted to meet with Goodell, both to tell his own story and to get the lay of the land about his future in the league. Sometime in February, Goodell agreed to meet Winston. That meeting occurred last week. As Genske said, it was more of an informational/educational meeting than anything else—though Winston did get his chance to tell his story to Goodell.

"He went out of his way to make a good impression, and to show that he understood what was going to be expected of him in the NFL," one league executive who participated in one of the series of meetings said Tuesday night.

Winston, of course, had several off-field issues at Florida State, including being accused but not charged with sexual assault; shoplifting; and yelling out an obscenity in the student union, which cost him a one-game suspension. But the league people I spoke with Tuesday made it clear that Winston made a smart decision in pushing to meet Goodell and establishing a relationship with him.
Another sign on maturity by Winston, and wise move. The more Winston can put himself in good positions to learn productively about the NFL, the faster he'll mature.