Slight Interest In Suh
March 3rd, 2015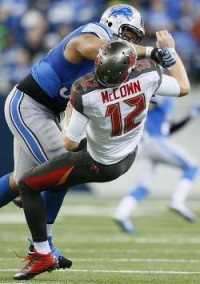 The NFL world was set abuzz yesterday when it was learned the Lions and defensive tackle Ndamukong Suh broke off contract talks and the All-Pro will test the free agent market.
Bucs fans well versed in fantasy football flipped out on Twitter thinking there is a real chance Suh could be playing alongside Gerald McCoy next year.
On several levels, as Joe stated yesterday, that's as likely as Team Glazer holding a topless town hall meeting on Clearwater Beach to answer questions about British kickball and why the hell there aren't digital replay boards at the Den of Depression.
Count the "Custodian of Canton," eye-RAH! Kaufman of the Tampa Tribune, among those who find this Suh to be poppycock.
Defensive tackle may be one of Tampa Bay's few areas of strength. Bucs have no interest in breaking the bank for Mr Suh, as good as he is

— Ira Kaufman (@IKaufmanTBO) March 2, 2015
Joe snooped around yesterday to see if the brushfire on Twitter about the Bucs and Suh was pure smoke or not. What Joe learned is that, yes, just like if a hot chick sat at a table next to you in a beachbar, there would be a degree of interest in Suh at One Buc Palace.
However, all the hoops the Bucs would have to jump through in order to make this happen, and all but blowing up the salary cap as a result, makes the move about as unlikely as Joe taking that same hot chick home without paying (an hourly rate).
Joe remains sure Suh won't wear a Bucs jersey in an NFL game next season.