Bucs War Room
March 3rd, 2015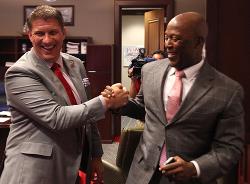 Yes, free agency is now seven days away. The dinner bell will ring loud for all NFL fans to hear.
What the Bucs do in free agency will provide an idea of where they are headed in the draft.
Yesterday on NFL Network, Daniel Jeremiah, Charles Davis and Curtis Conway played the role of Bucs general manager Jason Licht and tried to predict what players on are the Bucs' radar, and who might be coming to Tampa Bay.
Joe gets hammered some times for being too harsh on the offensive line. Well, in this video, every position the troika believes needs an upgrade is listed in red. The entire Bucs offensive line is in red! Among the players the threesome mention that could be coming to Tampa Bay is Penn State offensive lineman Donovan Smith.
Gee, Joe wonders where they got that idea?