"Vivid And Painful Memory"
March 3rd, 2015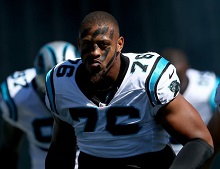 It's quite clear that bad guy superstar defensive end Greg Hardy will hit free agency.
The Panthers don't want him after his public case of girlfriend terrorizing ended in a misdemeanor conviction, which was followed by North Carolina courts tossing his case.
After the NFL forced Hardy to sit with pay for 15 games last season, it's likely the NFL will let Hardy return in 2015. When exactly, however, is unknown. But whatever the day, he'll come back as a very well rested, healthy 26-year-old or 27-year-old manbeast.
Tampa Bay needs a dangerous rusher off the right edge. Yesterday, former Bucs defensive tackle Booger McFarland was Twittering that the Bucs don't need a Ndamukong Suh on their defensive line, they need a "Greg Hardy type" pass rusher.
No argument from Joe.
Hardy shouldn't be expensive. He'll likely sign a one-year deal somewhere so he can prove he can behave, and then break the bank next offseason.
Joe enjoyed this NBC video breakdown (below) of the edge rusher market in free agency. Former Giants offensive coordinator Kevin Gilbride talked about how Hardy, when motivated, is one of the nastiest matchups in the NFL, a "vivid and painful memory."
Perhaps the only other accomplished pass rusher the Bucs could target is Jerry Hughes of Buffalo, if he hits the market.
Joe's a little leery of Hughes, however, despite consecutive 10-sack seasons. He played alongside three Pro Bowlers in Buffalo on the defensive line, which might have helped his numbers a little too much.