Picking Flowers
March 20th, 2015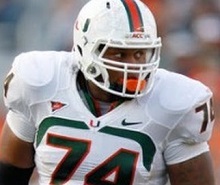 There's a new draft guru in town, and he played years for the Buccaneers.
When pressed for a Tampa Bay second-round pick on the offensive line, this guy moved his chips all in for Ereck Flowers, the gargantuan out of Miami.
Joe's talking about former Bucs tight end Anthony Becht, who trains draft prospects at IMG Academy in Bradenton, in addition to his ESPN college football duties and chattering on the Buccaneers Radio Network.
The superior WDAE-AM 620 audio below is Becht going very deep on various draft prospects who could save the Bucs' offensive line. Becht isn't blown away by any of the names in this deep draft for O-linemen. He only grades Iowa lineman Brandon Scherff as a first-round talent, but Becht claims Scherff looks like a better guard.
But when asked to get off the fence on the rest of the potential tackles, Becht picked Flowers, who he called a "nasty finisher." Though Becht said Flowers has sloppy feet.
"If he just works on his craft a little more, all that strength and talent and athleticism, it could be a scary type of player for you, if he can get coached up," Becht said. "That's the biggest things. All these guys are going to have to taught and coached up and just cleaned up."
Becht went on to rave about Flowers' raw athleticism and said he has the most upside of all the guys the Bucs might find in the second round.
Those who watched the combine saw Flowers perform feats of strength with his 6-6, 329-pound frame.
Enjoy the full Becht audio below. Very informative.