Bucs Looking To Wash Hands Of Martin?
March 20th, 2015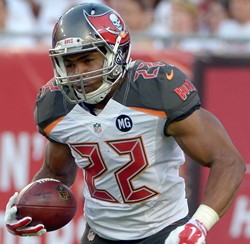 Since his Pro Bowl, rookie season of 2012, Doug Martin just hasn't been the same. Injuries have something to do with that.
Martin lost a good chunk of 2013 with a shoulder injury and, after getting off to a terrible start, Martin admitted to Joe after the final game that he was injured early in the year, which affected his rushing prowess.
Perhaps because of this, from the Twitterings of the "Custodian of Canton," eye-RAH! Kaufman of The Tampa Tribune, don't bet Martin is wearing a Bucs uniform when the regular season kicks off less than six months from now.
The Bucs have more housecleaning to do before the start of training camp. Keep your eye on Dashon Goldson, Mike Glennon and Doug Martin

— Ira Kaufman (@IKaufmanTBO) March 20, 2015
"Housecleaning?" Pretty strong word.
Running backs — with few exceptions (and Joe knows his readers will be quick to offer exceptions) have short shelf lives. They get the hell beat out of them too much. It's a sad fact of NFL football in the 21st Century.
Martin may be feeling the wear and tear already. This is yet another example of why no general manager should ever draft a running back in the first round. It's simply a bad investment, unless you are one running back from making a Super Bowl bid.