Patience With The Offensive Line
March 28th, 2015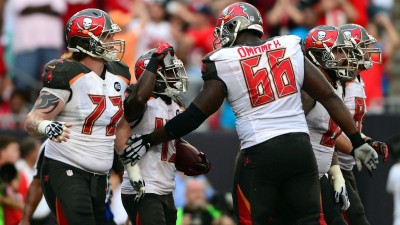 Bucs fans freak out about the offensive line, desperately latching on to any familiar name to be a plug-and-pray solution to the sieve.
Yes, Joe knows the offensive line was terrible, but these fans seem to have seen something worse than Joe. Perhaps Joe was distracted while rubber-necking the five-car pileup that was turnover-prone Josh McCown.
FoxSports.com has been looking at how the Bucs can improve this season and, naturally, the offensive offensive line came up.
The Bucs overhauled their offensive line, replacing everybody except right tackle Demar Dotson. The hope was that bringing in playoff-tested veterans like Logan Mankins and Evan Dietrich-Smith would give the Bucs an edge. It didn't. Across the board, Tampa Bay's offensive line has been a massive disappointment. The group has allowed 39 sacks and is a big reason why the Bucs ranked 31st in rushing [last] season. There is bound to be improvement if the unit is given another offseason to gel. Plus, there will be opportunities to plug holes through the draft and free agency.
Joe isn't panicking but must admit to lying prone in a fetal position when he learned Father Dungy is sticking his nose where it doesn't belong, trying to Pearl Harbor the Bucs. Hey Dungy, thought Team Glazer fired you 13 years ago? Go away!
As for the offensive line, Joe isn't panicking, no. Joe would be shocked if the Bucs don't draft two offensive linemen in May, if not more. And surely there will be a team shedding a player as a cap causality.
No need to race to the Sunshine Skyway Bridge — yet.