Trading Down … And Drafting Jameis Winston
March 28th, 2015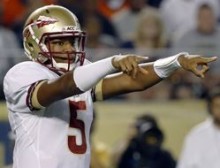 A prominent national NFL voice and former personnel executive projects the Buccaneers will trade down and still draft Jameis Winston.
As Joe wrote months ago, that would be the dream scenario for Tampa Bay — to score the draft's best QB and bag more draft picks.
Pat Kirwan, the SiriusXM NFL Radio host and ex-Jets front office man and linebackers coach, thinks the Bucs can get that done with the Jacksonville Jaguars. Kirwan joined his Movin' The Chains co-host Jim Miller for an on-air mock draft on Friday, their first of the season.
Kirwan thinks the Jaguars, owners of the No. 3 overall pick, will panic that pass rusher Leonard Williams could come off the draft board. So Jacksonville will offer the Bucs their No. 3 overall pick and their second-round pick for the Bucs' No. 1 pick. Jacksonville would then draft Williams. Tennessee, at No. 2, would select Oregon QB Marcus Mariota, and the Bucs would embrace destiny and draft Winston at No. 3.
It's a nice concept, but highly unlikely.
Yes, Titans head coach Ken Whisenhunt told Joe and other assembled media at the NFL Owners Meetings in Phoenix this week that he would make Mariota his Day 1 starter. But Joe talked to a trusted NFL source later that day, and the source told Joe that Whisenhunt's comment about Mariota directly contrasted what Whisenhunt had told those close to him.
Ahh, the season of smoke, aka the lead-up to the NFL Draft.
You can hear Kirwan and Miller talk about the first three draft picks in the SiriusXM NFL Radio cut below.