Mistake Dismissed: Bucs Cut Anthony Collins
March 10th, 2015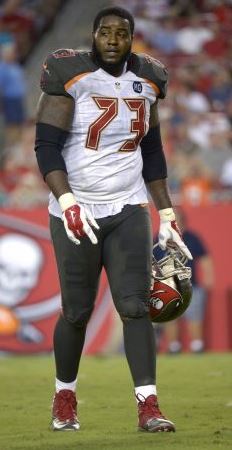 It was clear the Buccaneers waved the white flag on Anthony Collins in early December. And now it's official.
An expensive free agent harpooned by Lovie Smith and Jason Licht last year, Collins has been released. The man asked to replace iconic left tackle Donald Penn is a former Buccaneer.
Collins was ugly in the 2014 preseason but played a couple of good games early in the regular season. In September, Collins also was known for his extreme passion, angry and then teary after losses.
He even snatched a leadership role and was credited for heartfelt motivational tactics in Pittsburgh, the site of the Bucs' first victory.
Collins seemed like a great teammate but something went terribly wrong. His play declined significantly. The injury bug bit him and he missed a few starts. Then he was a healthy scratch, benched for the final three games.
Joe still doesn't get why Collins was signed to big money by Tampa Bay. Before last season, Collins, 29, had never made more than seven starts in a season. He was a career backup. And he played like one last year — at one of the most important positions on the field.
Various reports claim the Bucs owe Collins $3 million for 2015, despite him being off the roster. Joe thinks that money will be money well wasted.