"I Expect Us To Compete For The NFC South"
March 31st, 2015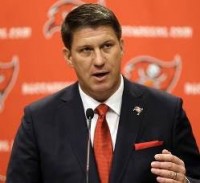 Last year at this time, Lovie Smith and general manager Jason Licht publicly were saying it would be "unfair to ask the fans to be patient" with the Buccaneers. It was a win-now mindset with a pile of new free agents in the house.
Has the attitude been altered? Joe asked Licht at the NFL Owners Meetings last week.
The answer from Licht was simple, "No." The Bucs aren't backing off an expectation of fast success.
Licht acknowledged, "I'm sticking my neck out," but also said he could never say his team is planning on a losing season as part of a rebuild. Regardless, per Licht, the Bucs showed enough on the field to have high goals in a wide-open NFC South.
"How could we not have high expectations when we saw a dramatic improvement with our defense last year," Licht said. "And then now with the addition of Dirk Koetter, and another year under the belt of Mike Evans and Vincent Jackson. And we'll have Austin [Seferian-Jenkins] back and Charles Sims showed flashes at the end. Doug Martin was running the ball late. How could our offense not be better? We were competing there all the way until Week, whatever it was, that we finally got eliminated. But we were right there in it, so, you know, I expect us to compete for the NFC South."
Joe is pleased that Licht holding firm. It would be sad if he were backpedalling.
It would be a different situation if the Bucs had a powerhouse team in their division, but they don't. Seven wins delivered a title last year.
A massive talent infusion at quarterback should go a long way toward putting the Bucs right into the mix.