Jameis Watch: "A Pretty Good Choice"
March 20th, 2015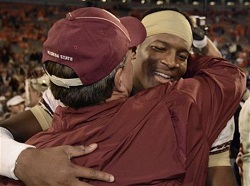 Crab-legs-stealing, BB-gun-shooting, obscenity-hollering, Heisman-Trophy-winning, former national champion Jameis Winston, the pride of Florida State University, continues to look like a much better quarterback prospect than Mike Glennon.
It's Joe's daily nugget on the Jameis Watch, celebrating the best quarterback ever to wear No. 5 in the state of Florida.
Jameis Winston has said he wants to be the "face of the franchise," the Buccaneers franchise. Actually, Winston has said it many times. Young Jameis likes that phrase.
However, a BSPN report this week, backed up by the Tallahassee Democrat, claims Winston prefers to stay home on draft night in Alabama with family and friends. He doesn't want to hold up a Bucs jersey before millions of American viewers.
Joe has no problem with that. A hug from Roger Goodell, a wave and a jersey photo op is overrated. But many people think Winston's decision showcases a me-first, screw-you attitude.
Florida State head coach Jimbo Fisher is firmly backing Winston and thinks his choice shows character.
"To me, it shows you a lot because he isn't dissing anything. He's trying to be with the people who love him and supported him all the way up, and were his heroes."

"… Not saying I (don't) think it's great to go to the draft if your families can go, but that's also a pretty good choice there," Fisher said of Winston. "It shows you a little bit about himself."
Yes, Winston's decision to stay home — if he sticks with that call — will rankle hateful Bucs fans, especially Mike Glennon Mob members and the Marcus Mariota Gang.
The funny thing is, now that Winston's stay-at-home plan is out there, if he changes his mind, he'll be villainized.
No, Winston can't win.