Free Agent Approach 2015
March 21st, 2015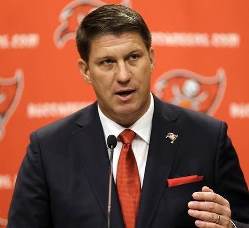 Joe gets it a lot: folks asking why the Bucs don't sign this guy or that guy.
Understandable. Fans, kicked in the nuts annually in recent years, desperately want the Bucs to improve so they can look forward to Sundays and good football for a refreshing change.
This offseason, the Bucs mostly have held their chips, seemingly happy building depth that is terribly needed on the roster. But some fans seem to think the Bucs are reverting to the Hugh Culverhouse days because of inactivity in signing big money free agents.
Leave it to the "Custodian of Canton," eye-RAH! Kaufman of The Tampa Tribune to explain the Bucs' rationale after the free agent dinner bell rang earlier this month.
Bucs cautious approach to 2015 free agency driven by two factors: relatively weak class and sting of last year's costly mistakes

— Ira Kaufman (@IKaufmanTBO) March 20, 2015
Do not discount the latter motive. Just think about it: After spending some $29 million of Team Glazer's cash on three guys who turned out to be so rotten they were thrown out on the street after just one season, it would be awfully hard to look a Glazer in the face and try to repeat that spending spree.
If the Bucs are going to sign players, then Joe assumes it is to better the club, not to just sign guys with no gas left in the tank for the sake of signing someone. What's the point in that?