Suh Deal Reveals Gerald McCoy Bargain
March 8th, 2015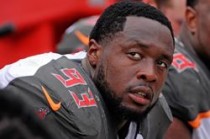 You can argue who is better, Ndamukong Suh or Gerald McCoy, all day long, but there is no arguing on who will get paid a lot more over the next six years.
Today, per BSPN, Suh preliminarily agreed to a six-year, $114 million deal with the Dolphins. That's about $19 million per year for Suh, who can sign the deal when the free agency dinner bell rings on Tuesday afternoon.
Last October, the Bucs inked McCoy to a seven-year contract that would leave McCoy with about 30 percent less money than Suh annually.
Over the past three seasons, McCoy has more sacks and more forced fumbles than Suh.
Joe's glad the Bucs locked up No. 93. He sure could have made more cash on the open market. And Joe would wager a few nickels that McCoy has a better career in the books when both guys eventually hang it up.