Five New Starters On Defense?
March 19th, 2015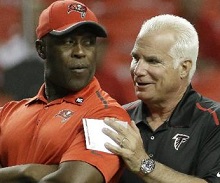 Joe vividly remembers eating eggs, melon and toast with Lovie Smith at last year's NFL Owners meetings and hearing Lovie say he signs free agents who plan to be starters.
Lovie's rationale was simple and clear. Before they sign, good free agents want to know about playing time and want to discuss their shot to be a starter.
The discussion back then centered around newly-signed linebacker Dane Fletcher and whether he could be a replacement for then middle linebacker Mason Foster. A year later, both players are former Buccaneers.
What's important now is that Lovie's mindset on building a team hasn't changed. He and general manager Jason Licht have signed four free agents — all on defense: former All-Pro defensive tackle Henry Melton, cornerback Sterling Moore and linebacker Bruce Carter from the Cowboys, and safety Chris Conte, who played in Lovie's defense with the Bears.
Could all those guys become starters?
Considering Lovie claims his nickel cornerback is the 12th starter on defense, then, yes. Sure.
Melton, if he stays healthy, can be a beastly pass rusher. Perhaps he can win the job from nose tackle Clinton McDonald in preseason. Joe asked Melton about playing nose last week, and he insisted he can.
Add whoever replaces ghostly and ghastly departed defensive end Michael Johnson, and the Bucs could have five new starters on defense. That would be quite a shakeup for a team "on the verge."