Cowboys Not Bowling Over Greg Hardy
March 17th, 2015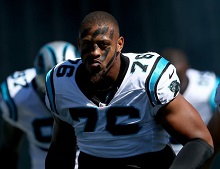 Yes, Joe is aware this is a Bucs site. So why is Joe posting a Cowboys item here?
Because Bucs fans wan Greg Hardy to replace ghostly Michael Johnson at right defensive end, an overwhelming majority wants this. Joe's poll last week proved it.
Given the keen interest locally in Hardy, Joe feels compelled to update readers on Hardy happenings.
Yesterday, Joe brought word the Cowboys were pursuing Hardy. Bucs fans can rest easy, however, if what Drew Davison of the Dallas Morning News types is accurate. Jerry Jones isn't exactly throwing wads of cash at Hardy.
Because of that domestic violence incident, there is a chance the NFL could suspend Hardy for six games in 2015.

That's why the Cowboys are taking their time in pursuing Hardy. They are only interested in him on a team-friendly deal, similar to that of linebacker Rolando McClain last season.
Team-friendly, huh? In common-speak, this means "cheap." And if the Cowboys are trying to lowball him, then a team making a reasonable offer to Hardy would put the Cowboys in his rearview mirror.