Cap Casualties On Jason Licht's Radar
March 3rd, 2015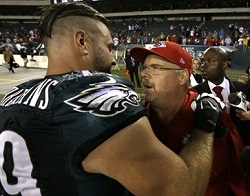 What do you mean you don't remember Buccaneers general manager Jason Licht talking about scoring salary "cap casualties" from other teams?
How you could you forget such a thing?
Right after the end of the miserable 2014 season, Licht hopped on the Buccaneers Radio network and explained Tampa Bay already had identified players who could be cap castoffs that might benefit the Bucs.
"We think we could maybe swoop in on and get a bargain, per se, or mix good value sense-wise for us to sign and upgrade our team," Licht said. "We've got some holes on our roster that we can upgrade. We are going to be active in all those different areas, but we are going to be wiser about it."
Patience is the best translation for Licht saying "we are going to be wiser about it."
Take recently cut almost iconic Eagles right guard/right tackle Todd Herremans. Joe wrote about Licht potentially targeting him two months ago.
He could be an ideal cap casualty kind of guy, especially since he has been a successful starter at right tackle and right guard. The Bucs, for example, could express their interest in Herremans but without pressure, and let Herremans test the market out. If the Bucs are sure he's healthy and willing to accept a modest salary, then maybe an offer comes.
The national buzz has Herremans reuniting with Andy Reid in Philadelphia. Who knows?
Regardless, with the free agency bell ringing in seven short days, Joe wanted Bucs fans to remember Licht already has talked about targeting cap casualties.