Jameis Winston Starts Tampa Grilling
March 3rd, 2015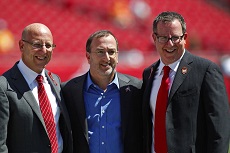 Game on!
Team Glazer is a premier focus of Jameis Winston being in Tampa today.
Adam Schefter of ESPN pumped out that take via a Twitter report this morning.
Jameis Winston in Tampa today as part of a 3-day visit w/ Buccaneers, per sources. Visit centers around owners, said to be "Glazer-centric."

— Adam Schefter (@AdamSchefter) March 3, 2015
Jameis Winston visiting Buccaneers today might be unprecedented. Potential No. 1 picks don't visit teams with No. 1 pick this early. Ever.

— Adam Schefter (@AdamSchefter) March 3, 2015
[UPDATE: Joe has learned Winston will only be in Tampa for one day, but this "meeting" with Bucs brass could last an extended time at a neutral site away from Tampa. The Bucs have to follow NFL rules.]
Joe likes that the Bucs are getting the intensive, face-to-face process going early with Winston. Might as well not wait around. If Team Glazer blesses Winston after this long visit, then the Bucs' regime can continue digging into Winston's past and further evaluating him as a football player.
If Team Glazer passes, then there's no more wasted time.
And no, Joe doesn't expect South Tampa Publix and Burger King's to be on high shoplifting alert.