Bucs Will Cut Goldson; "Hawk" To Fly Free
March 11th, 2015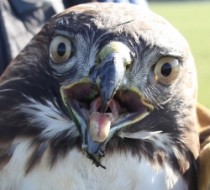 The build-the-defense-from-the-back Greg Schiano philosophy is now ancient history.
First, the New Schiano Order spent the 2012 No. 7 overall draft pick on safety Mark Barron. Less than a year later, it was an $8 million-per-year contract for safety Dashon "Hawk" Goldson.
Neither will be 2015 Buccaneers. Joe has learned Goldson will be released after new safety Chris Conte's contract is made official. And that means the Bucs will free up even more salary cap room.
Historically speaking, Hawk should be remembered for helping the Bucs win the Chase for Jameis last year. It was Hawk who dropped what appeared to be an easy pick-six deep in Panthers territory, late in the fourth quarter of opening day with the Bucs trailing 17-14.
Hawk made 27 starts for Tampa Bay and recorded one interception and one forced fumble, plus multiple fines, personal fouls and suspensions in 2013, when he was playing headhunter in a league that won't tolerate that.
The legendary, candid "Hawk Radio" show on the Buccaneers Radio Network will be missed, but that's about it when it comes to Goldson.