Bucs Finalizing Deal For Safety Chris Conte
March 11th, 2015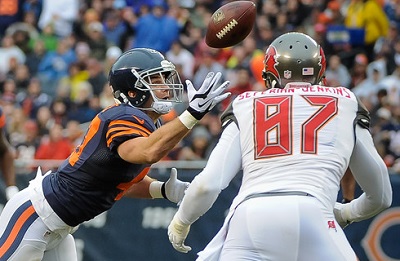 Lovie Smith is reuniting the band.
The former not-so-dynamic safety duo of Chris Conte and Major Wright will soon be wearing the same jerseys again — Bucs jerseys.
Per ESPN, Conte is finalizing a deal with the Bucs this evening.
Conte, 26, was a Lovie third-round pick in 2011, and he's known for his warrior mentality, except he's often been a wounded warrior, including multiple concussion issues.
In 2012, Conte and Wright started all but one game together in Chicago, when the Bears had the fifth-ranked defense.
In 2013, Conte had three interceptions and 73 tackles. Last year, he returned from offseason shoulder surgery to record three picks — Lovie loves ball hawks — while battling various ailments. He missed four full games due to injury.
Conte made headlines late last year when he said he had no problem living a significantly shorter life in exchange for playing in the NFL.
The Bucs are loaded with bodies at safety now. They still have emerging Bradley McDougald, along with Schiano-era holdover Keith Tandy, who is a special teams standout earning peanuts. There's also overpaid Dashon "Hawk" Goldson still in the nest. Joe's having trouble believing Hawk will fly another year in Tampa.