"Were The Analysts Completely Wrong?"
February 3rd, 2015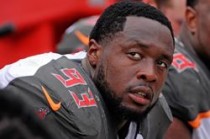 Legions of NFL insiders were all over Tampa Bay last summer. They were talking playoffs and about how the Bucs could be the 2013 version of the Chiefs.
Even Peter King and Herm Edwards were rumbling about a possible Super Bowl appearance!
BSPN NFL stats guru and writer Mike Sando is intrigued by the Bucs' massive flop. As a true numbers guy, he's openly wondering whether the Bucs are poised to right what might have been an anomaly last season.
Sando penned a piece on teams to watch — in a good way — in 2015. And he thinks the Bucs could be competitive for a playoff berth.
2. Tampa Bay Buccaneers: They were so much worse than anticipated last season after making a series of personnel moves that went over well with some of our analysts, notably Bill Polian. Were the analysts completely wrong, or is this a situation where a strong-enough foundation is in place for Tampa Bay to take a giant step forward in a potentially weak division? Having an actual offensive coordinator could help this team make the leap, especially if it finds success with a rookie QB at No. 1 overall.
Yes, it's ludicrously early for any kind of prognostication, but it's fun nonetheless.
Joe would like to see the Bucs win a home game under Lovie Smith. That would be a nice start towards a turnaround.
As for Sando wondering about the analysts, yes, they were wrong. The Bucs were dreadful, and close games don't count. Joe predicted a 7-9 season. Joe was at 6-10, but added a game when the Bucs traded for Logan Mankins to solidify (allegedly) their offensive line.