Adrian Clayborn Makes Hot List
February 17th, 2015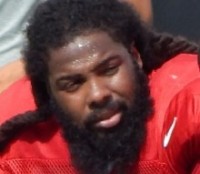 Lovie Smith raved about the relentless work ethic and drive of defensive end Adrian Clayborn last summer.
Put that in the category: Things you don't hear about Michael Johnson.
Heck, Gerald McCoy said Clayborn's transition to left defensive end likely was the key to the 2014 season.
But Clayborn ripped his bicep on opening day and was lost for the year. Following surgery, he was cleared for all football activities in late December.
Clayborn's 2011 first-round-pick contract ends when the free agency dinner bell rings in 21 short days. The gurus at ProFootballTalk.com rank Clayborn as the 71st-best free agent.
71. Buccaneers defensive end Adrian Clayborn.
72. Eagles safety Nate Allen.
73. Rams offensive tackle Joe Barksdale.
74. Titans quarterback Jake Locker.
75. Texans offensive tackle Derek Newton.
76. Buccaneers inside linebacker Mason Foster.
Sadly, Clayborn has been fragile. Serious injuries cost him nearly all of 2012 and 2014. And in 2013, he played like the typical guy coming back from a blown ACL. Greg Schiano didn't believe Clayborn could edge rush, and that was a big reason for the wacky line stunts in '13.
Joe suspects there will be a market for Clayborn, a modest one-year deal with incentives is likely in his future.
Do the Bucs go there? Maybe. Clayborn might be the best defensive end on the roster right now.