"I've Never Met One More Willing To Sacrifice"
February 2nd, 2015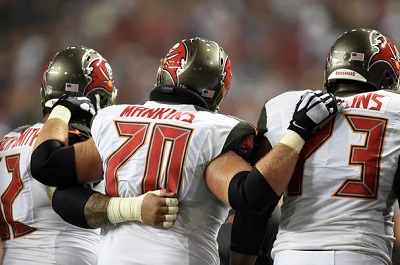 Joe's been hammering barbecue-venue-challenged Logan Mankins lately.
The Bucs have a big decision ahead of them, whether to pay the declining veteran guard about $7 million next season.
Much has been made of Mankins' superior leadership. Joe isn't seeing evidence of it, but Joe is willing to listen.
In Phoenix last week, Joe asked gargantuan Patriots starting left tackle Nate Solder (6-8, 320 pounds) about Mankins. And the 2011 first-round pick was emphatic that Mankins is the best of the best when it comes to leadership.
"I've never met a tougher human being in my life. I've never met one more willing to sacrifice for his teammates and always be dedicated to getting better," Solder told Joe. "Everything that he did was to help improve his team."
It was quite a heartfelt endorsement by Solder. It also got Joe wondering about how Mankins might be able to assist Demar Doston in his experiment/transition to left tackle at nearly 30 years old.
Again, the Bucs have a big decision with 33-year-old Mankins. And what would Mankins' value be on the trade market? Joe suspects it would be flimsy, given his salary and age. That might be the Bucs' answer right there.