The 20K Mark
February 9th, 2015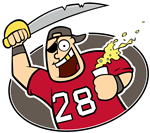 Joe's somewhat stunned by a new plateau that was reached over the weekend.
As JoeBucsFan.com turned 6 1/2 years old, Joe typed up his 20,000th post on these pages.
That might qualify Joe as insane. No other outlet in that time has come close to publishing that amount of news, notes and nuggets on the bumbling, beloved Bucs.
Joe was feeling proud, but then Joe felt a little ill. Joe's not sure he's got another 20,000 in his fingers. The losing is taking its toll.
The Bucs have won 30 out of their last 100 games and Joe hates losing. Not only does it suck the fun out of Joe's work and soul, losing is bad for business. Lots of readers think losing creates drama and intrigue and Internet traffic; Joe tells those folks they shouldn't quit their day jobs. Nothing makes fans check out like bad football. Joe's busiest day last fall came the day after the Bucs beat the Steelers to up their record to 1-3.
Regardless, Joe vows to press on. The 20,000 or so daily visits here are inspiring, and Joe will feel 10 years younger if the Bucs do the right thing after working so hard to win the Chase for Jameis.