Solving The Offensive Line Riddle
February 17th, 2015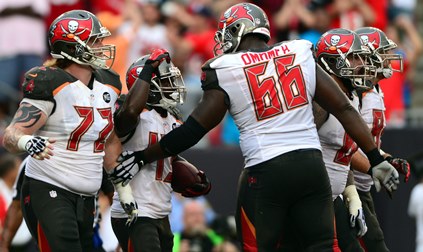 Two words could sum up most of the swings and misses the Bucs had last offseason: "Offensive line."
OK, fine. You want to dismantle an underperforming offensive line and try to get better. However, it got progressively worse.
Added insult was two guys the Bucs tossed, Donald Penn and Jeremy Zuttah, played well for their new teams; better than their successors on the Bucs; that's for sure.
The offensive line was such a collective turnstile in the preseason the Bucs panicked and traded for his-heart-was-left-in-New England, barbecue pitmaster Logan Mankins. Despite being a shell of his former Pro Bowl self, Mankins (outside of right tackle Demar Dotson) was likely the best offensive lineman the Bucs had.
Gregg Rosenthal of NFL.com talked to Joe about the Bucs' offensive line and its future.
"Offensive line is more about coaching," Rosenthal said. "You can probably find your premium tackles in the draft. You are hopefully not going to be on the top of the draft that often, so, it is always going to be quarterback first but [the Bucs] are in a position where they don't need to force. I don't think any of the offensive linemen are worth taking that early."
The neat thing about the 2015 draft is that the middle rounds are expected to be loaded with offensive line talent. There's also projected late-first-round talent, and with the Bucs owning the 34th pick, you figure an O-lineman who should have been chosen in the first round will fall in their lap.
After that, Joe wouldn't be surprised if the Bucs draft two more offensive linemen, as that is the projected value position in this draft.