Dizzying Talk From Evan Dietrich-Smith
February 17th, 2015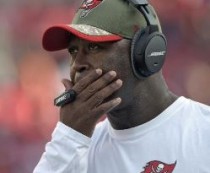 Somehow, in a span of just a couple of minutes, Bucs center Evan Dietrich-Smith contradicted himself multiple times when reviewing the Bucs' 2014 season on SiriusXM NFL radio last night.
Dietrich-Smith offered an analogy of how the Bucs offense was a like an assembly-required kids toy but nobody knew how to put it together and the kids were "sitting back and staring" at each other.
Then he quickly talked about how Lovie Smith did such a great job getting the team ready to play, preventing an "internal implosion" and keeping everyone on the same page.
Dietrich-Smith next claimed the Bucs started figuring things out late in the season and played better football and are moving in the right direction.
Huh?
How can the offense be near clueless, per Dietrich-Smith, yet the head coach did a great job getting the team ready? Is Lovie all of a sudden not responsible for the entire team?
And where was this better football the Bucs played? Please, tell Joe. Show Joe.
Dietrich-Smith and his O-line mates let their quarterback get abused and were soft in the run game.
Joe gets that it's fashionable to blame Marcus Arroyo, and he was fired. But let's stop pretending the Bucs were somehow ready to play and gave their all. If Dietrich-Smith and friends were giving their best, then the Bucs really need to blow up that line and start fresh, otherwise it might be time to start ordering a body bag for the next rookie QB.