Report: Bucs Seeking To Cut Jackson Pay
February 13th, 2015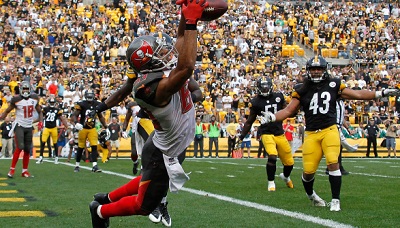 Vincent Jackson is set to earn about $10 million in 2015.
That's a lot of cheese for a team's No. 2 wide receiver.
Per longtime NFL writer Jason Cole, now on staff at Bleacher Report, that's too much cash. Cole, via CBS Sports, claimed yesterday the Bucs will ask Jackson to take a pay cut.
Joe's been told Cole's report is pure speculation.
However, if the claim is eventually accurate, the Bucs have legitimate leverage with Jackson. Stud young wide receiver Mike Evans is on the roster, and the Bucs surely could buy a great No. 2 WR on the free agent market for much less than what V-Jax earns.
It's not like Jackson's representatives would think the Bucs are bluffing.
Big questions the Bucs should consider are how many years they believe Jackson can keep producing, and how long do they want to pay him. He's signed at big bucks through 2016.
Joe's not advocating Jackson get the boot from Tampa Bay, but it would be reasonable for the Bucs to mull restructuring his contract.