Top 30 Buccaneers Mysteries Of 2014 – No. 20
February 13th, 2015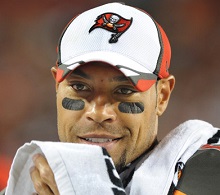 In many ways, Tampa Bay's 2014 season was more bizarre than the MRSA-infected, quarterback-gone-mental, Fire-Schiano-billboards campaign of 2013.
There were plenty of real Bucs mysteries last year, and Joe's revisiting the most interesting of the bunch.
No. 20 — VJax's wrist
Yes, mysteries can have happy endings.
One that still has Joe happily shaking his head is Vincent Jackson playing through a fractured wrist. Most fans don't even remember it, but FOX Sports broke that V-Jax suffered the injury early in the Week 3 embarrassment at Atlanta.
Jackson confirmed the fracture, had little to say about it, didn't miss a game, and pressed on to his third consecutive 1,000-yard season.
Who does that? Joe had never heard of a wide receiver playing through a busted wrist.
No. 21 — Anti-Jell
No. 22 — Seferian-Jenkins boasting about penalized pose
No. 23 — Never moving Michael Johnson
No. 24 — "I didn't want to put more points on the board"
No. 25 — Glennon success without an offensive coordinator
No. 26 — Putrid punting
No. 27 — Defending three-step drops
No. 28 — Eight consecutive red zone runs versus Rams
No. 29 — Leaky Sean Glennon
No. 30 – Jorvorskie Lane