Mike Glennon And The Browns
February 5th, 2015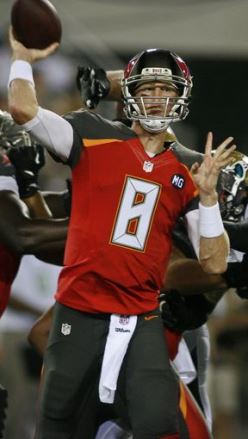 No, Joe is not a deranged hater. Joe is not dancing with glee because Johnny Football is seeking help to become the best he can be at the NFL level.
The mental patients who celebrate this are the ones who truly need counseling, if not institutionalization themselves.
(So too did Brett Favre seek treatment. How many of you psychopaths were high-fiving over his problems? Buncha animals.)
And yes, if Lovie Smith makes the unconscionable error to pass on Jameis Winston, Joe would love to see the Bucs make a reasonable offer for Johnny Football. Joe isn't a nimrod ready to toss a guy to the wolves after six quarters.
Until Johnny becomes healthy, the Browns may be seeking for quarterback depth. And one of the top NFL insiders, Chris Mortensen of BSPN, suggests the Bucs should be, and probably are, on the Browns' radar.
In short, "Mort" believes the Browns should be making a pitch to Bucs general manager Jason Licht for Mike Glennon. Mortensen discussed this subject with Adam Schein, host of "Schein on Sports," heard exclusively on "Mad Dog Radio," part of the family of sports channels on SiriusXM Radio.
Adam Schein: Who do you think will be the quarterback in Cleveland this year, Mort?

Chris Mortensen: Ah, I would say Brian Hoyer still. I think Hoyer re-signs back with them. I am anxious to see if they trade – I'm not talking about one of their two first-round draft picks – see if they trade a draft pick and go down and get Mike Glennon from Tampa Bay.

Schein: See, that's the guy – whether it is Cleveland or somewhere else – Mike Glennon can play in the NFL, right?

Mortensen: Well, listen. Go out and I'd say, go back and look, even for the cynics, go back and look at some of his past work now. I don't know how many games he has played in, 20, 21, 19, whatever, his numbers are pretty good. In retrospect, it shows Greg Schiano identified a valuable quarterback. And when you play in the AFC North, man, those big-armed, strong guys, that's what you win with. Joe Flacco, Ben Roethlisberger. Now I am not saying Glennon is in that category. That's the type of guy, if I were Cleveland, I'd be looking to see if I could make a play for him. And I think Jimmy Haslam, the owner, knows that Mike Glennon is a guy that they should be considering.
If the Bucs truly are going to draft a quarterback, this is the way to go. And it would be a fresh, deserved start for Glennon. The guy has been used and abused in his time in Tampa Bay.
First, Glennon was thrown into the fire after leaky, sleepy Josh Freeman went mental. Then, he was jerked around by Lovie, first told he was the quarterback of the future and then benched, truly a mystery.
Glennon would at least get a fair shake in Cleveland.
And for Johnny haters, Bill Polian and Gil Brandt both would have drafted him, too. Guess you guys know more about building football teams than those two, huh?