Mocking: Marcus Mariota To The Bucs
February 5th, 2015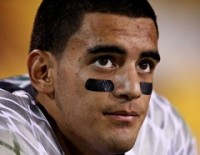 Mock drafts annoy Joe only a little bit less than warm beer, overcooked fish and the Bucs calling timeout in Detroit before their first snap of the third quarter.
But some mock drafts are worthwhile.
Joe's always eager to listen to the thoughts of those he respects, such as Pat Kirwan of CBS Sports, the former linebackers coach and personnel executive with the Jets, a former Bucs scout, and a brilliant voice on SiriusXM NFL Radio.
Even if it's way to early for a mock draft, as it is now, Kirwan penned a first-round mock draft this week for CBSSports.com and Joe was reading.
Here's Kirwan's top-5 breakdown:
1. Tampa Bay Buccaneers — Marcus Mariota, QB, Oregon: Right now it appears Jameis Winston is the top pick for many draft followers, but the heavy scrutiny by the coaches and GMs is yet to come.

2. Tennessee Titans — Jameis Winston, QB, Florida State: I don't think Tennessee will stay in this spot but someone desperate for a QB will come up to No. 2 and it is even more likely a trade partner is waiting if Mariota is available.

3. Jacksonville Jaguars — Leonard Williams, DT, Southern California: Williams is a rare athlete for his size and Gus Bradley's defense needs a dynamic player up front.

4. Oakland Raiders — Amari Cooper, WR, Alabama: The Raiders could go in a number of directions and if for some reason one of the top two quarterbacks are still on the board they should move down and get more picks. Derek Carr needs receivers and Cooper is a solid selection.

5. Washington Redskins — Randy Gregory, DE, Nebraska: If the Redskins re-sign Brian Orakpo then this pick changes to an offensive tackle, but Gregory is too good to pass up at this spot. He fits in any scheme and would be excellent opposite Ryan Kerrigan.
Joe reads this and thinks it sure would be a coup if the Bucs could somehow find a way to trade down with the Titans, or whoever else has the No. 2 pick, and still draft the quarterback of their dreams. That would be a dream scenario.