Mike Mayock Is Way Off
February 16th, 2015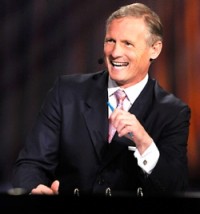 Joe has tremendous respect for super draft guru Mike Mayock of NFL Network, but enough is enough.
Mayock's comments about the Buccaneers during his annual pre-combine news conference today bordered on ridiculous.
Mayock had the nerve to say Jason Licht and Lovie Smith are not in an enviable position. (Transcription per Buccaneers.com)
With much discussion focusing on Winston's activities off the field, Mayock said that he was more concerned with what the quarterback was doing on the field. "I don't envy (general manager) Jason (Licht) and (head coach) Lovie (Smith) and that group and their decision because there is a consensus top two at the quarterback position, but there's contrasting issues with both of them," Mayock said. "With Jameis Winston, my concern, number one, is on the field. That is – I think he throws too many interceptions." Winston threw 18 interceptions in 2014 and was picked off 10 times the year before. "However, I can see everything I want on the field beyond that," Mayock added.
What the heck is going on?
Lovie and Licht are in a fantastic spot. They're the envy of the draft. They need a QB and are in position to take pro-ready, monster talent Jameis Winston, or they can go the developmental route with another mega talent, Marcus Mariota.
That's as good as it gets for Lovie and Licht, as long as they don't screw up the pick by failing to draft a true franchise quarterback prospect, like they did last year.
All the Bucs need to do is investigate and interview Winston and Mariota, bring them in for intense talks and private workouts under veteran coordinator Dirk Koetter, and then freakin' pick one. That's it. Pick a QB, fix the offensive line, and get Lovie back to coaching the way he did in Chicago.
Simple as that, as Lovie would say.
Whichever QB the Bucs draft is measurably better than Josh McCown or Mike Glennon. It's an upgrade and a shot in the arm for the organization.
The Bucs haven't had it so easy since Gerald McCoy was available with the No. 3 overall pick.
As for Mayock's evaluation of QBs, last year his final rankings had Johnny Football as the top QB on the board (10th overall), followed by Blake Bortles (15th), then Derek Carr (20th), Jimmy Garropplo (38th), Zach Mettenberger (40th) and Teddy Bridgewater (42nd).