Michael Johnson = Michael Clayton
February 16th, 2015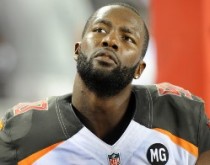 Here's a legitimately tough question: Who would have a better season starting at right defensive end for Tampa Bay next season, Da'Quan Bowers, Michael Johnson or Adrian Clayborn?
That challenging query illustrates just how ghostly and ghastly the Johnson situation is.
The man was dreadful last year, buttery soft. And now the Bucs must decide if they're going to throw real Team Glazer cash, another $7 million of real money by March 12 (not salary cap funny money), to a guy who has had two subpar seasons in a row.
For Joe, that would be like paying blocking icon Michael Clayton $10 million guaranteed like former rockstar general manager Mark Dominik inexplicably did in 2009. A wide receiver who can't catch is just as valuable as an edge rusher who rarely breathes on quarterbacks.
Some claim Team Glazer gets involved in big decisions. Joe hopes they step in here.
Joe doesn't see an end game with Johnson. Does he really look like a cog in the Bucs' future push for the playoffs? No way.