Cassius Vaughn?
February 16th, 2015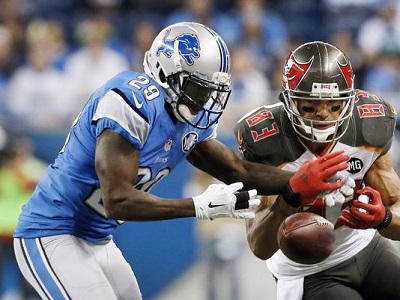 Lovie Smith's beloved 12th man, the nickel cornerback position he considers the 12th starter on his defense, gave the head coach headaches last season.
Keep in mind Lovie once simultaneously was head coach of the Bears and Chicago's nickel back position coach, a true rarity in the NFL.
That's how much Lovie is dialed into his nickel back play. The Bucs even had a dedicated nickel coach last season, Lovie's old friend Larry Marmie.
Tampa Bay signed his former Bears nickel D.J. Moore last offseason, but Moore was cut early in the summer. Leonard Johnson emerged as the nickel starter, but he looked lost. Another former Bears corner was pulled off the street, Isiah Frey, and he struggled. But he did help Johnson significantly, and Johnson surged late last season.
Joe suspects Lovie will look for an upgrade to Johnson and/or competition at the position.
That's why Joe's keeping any eye on Lions free agent nickel corner Cassius Vaughn, as the free agency dinner bell prepares to ring in 22 days. The 27 year old emerged as the Lions' main man late last year to rave reviews.
Vaughn played well against the Bucs, and he could be an inexpensive free agent looking for his fourth team in six years.
Hardly a major potential signing by any stretch, Vaughn has made 23 starts with seven interceptions. He's got a nose for the ball, which Lovie likes.
The point here is the Bucs should not breathe easy with Johnson as their nickel, and rookie corners don't dive into the complicated nickel role easily.