Message Sent
February 12th, 2015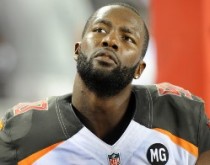 Not long after landing the Buccaneers general manager job, Jason Licht said one big thing he learned during his years under Bill Belicheat in New England is to be unafraid to move on from a player that underperformed; accept the loss and never look back.
Joe's thinking about that this morning in the wake of Josh McCown getting cut. It's great to see that Licht's wise approach was put into motion yesterday. There is no denying that McCown, who played like a shaky rookie most of last season, was a terribly disappointing free agent signing, though he did help the Bucs win the Chase for Jameis. And for that Joe will be forever grateful.
Joe considers McCown's ousting to be a loud message sent to every other underperforming Buccaneers free agent from last season. Michael Johnson, Anthony Collins, Evan Dietrich-Smith, you're not safe, and you shouldn't be safe.
McCown was revered by Lovie Smith. He was Lovie's handpicked leader of the offense and the anointed starting quarterback. And now he's gone. Heck, it doesn't even appear like the Bucs tried to renegotiate McCown's contract, aka cut his pay for him to stay and be a backup and mentor a rookie.
Licht said after last season that his job is to learn from mistakes in free agency, not to run and hide and avoid taking risks.
The free agency dinner bell rings in 26 days, and dumping McCown to free up $5 million in salary was an aggressive move. Joe highly doubts that's the only one coming, as the Bucs look to win a home game become respectable again in a hurry.