Leaders And Role Models Named
February 12th, 2015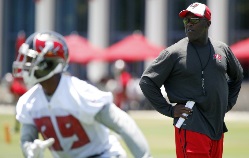 Remember when Joe talked to former Bucs starting linebacker Jonathan Casillas during Super Bowl week, and Casillas talked about how Mike Glennon definitely should be the Bucs' quarterback of the future?
Well, Casillas had more to say about inner thoughts of the Bucs' locker room.
Casillas singled out Gerald McCoy, Lavonte David and Dashon "Hawk" Goldson as guys who command the utmost respect for their football talents, knowledge and work ethics.
The "Hawk" inclusion was intriguing, given that Lovie Smith has labeled Hawk a brilliant football mind and Lovie's son, Bucs safeties coach Mikal Smith (Lovie's son), detailed how Hawk operates like a member of the coaching staff and is a top leader.
Yes, Joe thinks there's no chance the Bucs pay the $8 million or so due Hawk in 2015. That's just silly. But it is reasonable to think the Bucs will look to restructure his contract.
Coaches don't just run around in midseason praising guys they don't want around, even if leadership is overrated. Something to watch for as the clock ticks towards a decision on Hawk.