McCown Exit = Winston Entrance?
February 12th, 2015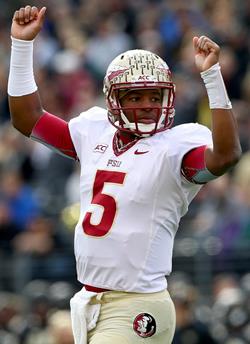 Joe thought it was an absolute bombshell when he learned the Bucs ripped up the contract of turnover-prone quarterback Josh McCown and waved him goodbye yesterday. Stunning because Joe thought Lovie Smith would keep McCown as a bridge of sorts for a rookie QB, whether it was Jameis Winston or Marcus Mariota.
That premise blew up in smoke. That is why Joe was sort of shocked, not that McCown's turrible play didn't deserve getting kicked to the streets.
The move means more than just a new Bucs starting quarterback come September. Woody Cummings of The Tampa Tribune, appearing with raconteur Dan Lucas of WFLA-TV Channel 8 last night on the 11 p.m. news, said the move signals there is a new leader in the clubhouse for starting quarterback, and he hails from Alabama by way of Tallahassee.
And that man goes by the name of "Jameis."
"I don't think there is any question [the Bucs] tipped their hand and maybe in a big way," Cummings said. "You could say, and you could certainly make the argument now, that this is a move that looks like are going to go with Jameis Winston as their guy because let's face it, he is the most NFL-ready of those two quarterbacks, between him and Marcus Mariota. You have to go with the guy who is ready to play because clearly they don't have what they think is a starting quarterback unless they think all of a sudden Mike Glennon is their starter and I doubt that is the case."
This all adds up, but what Joe has learned in the 13 months of the Lovie Smith administration is that the unpredictable is predictable. What Cummings suggests may be too obvious.
It wouldn't shock Joe right now if Lovie did name Glennon as the starter — or traded for China Bradford. Of course, if Lovie knew Glennon really was going to be the starter, and that he was going to unload McCown, then why the hell didn't he play Glennon more to give him valuable experience?
Lovie has been unpredictable. Getting rid of Darrelle Revis and signing McCown are just two of many inexplicable moves Lovie has pulled off thus far.
On paper, it sure smells like Winston is the chosen one after yesterday's transaction. In fact, it is too logical. Joe can't go there only because just when you think you have Lovie figured out, he throws you another curveball.
Joe sure as hell wouldn't want to play poker with Lovie.